Clouds hung around for most of the day on Wednesday and were forecasted to stay into Wednesday night.
Cloudy conditions will stick around through Thursday with a tropical feel to the day featuring high humidity. All of that moisture in the air should lead to some heavier downpours (which we will take given our current drought conditions!). The day won't be a total washout, but off and on showers and downpours look likely.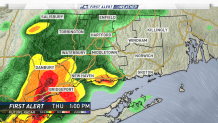 Bright sunshine and cooler temperatures return for Friday!