Our meteorologists are tracking freezing rain passing through the state tonight, which could cause slippery road conditions in some areas.
Freezing rain is moving through in the hills. Some sleet is possible.
With temps hovering near or below freezing, the roads could become slippery.
The day started sunny, but the sunshine gave way to clouds. Temperatures were cooler with highs in the low 40s.
Tomorrow will be sunny and mild with highs in the mid 40s.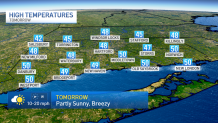 Thursday looks cloudy with rain developing late. Highs will be in the low 40s.
Friday looks partly cloudy with highs in the upper 50s.
You can get the latest forecast anytime here.