Thousands across Connecticut woke up Christmas morning with no power as a strong storm moved through the state.
Eversource was reporting more than 12,000 outages as of 3:30 p.m. United Illuminating had nearly 2.500 customers without power. The majority of UI outages were in the Hamden area.
The worst of the weather is behind us, but periods of light to moderate rain will continue into the early evening hours with breezy conditions. Wind early this morning gusted up to 70 mph in parts of Fairfield county and over 60 mph at Bradley International Airport.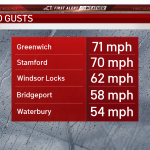 Parts of the state saw more than 2 inches of rain. Minor street, basement and river flooding were expected. A Flood Watch is in effect for the entire state.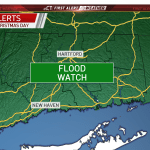 Rain and wind will diminish throughout the afternoon and skies will clear tonight. After starting off the day in the low 60s, temperatures will plummet as the storm pulls away and we'll wake up in the 20's Saturday.
Areas of black ice are possible Saturday morning. Ponding and puddles leftover from the storm will freeze overnight.
Skies will clear for the weekend with nice sunshine Saturday and Sunday with colder temperatures in the 30s.