Gusty winds took down trees and wires in some parts of the state Friday.
In East Hampton, some school buses had to return to school Friday afternoon when they were unable travel down roads because of high winds, according to the Facebook page for East Hampton Public Schools.
North Stonington Public Schools dismissed students early due to concerns about the high winds.
Power Outages
Eversource reported more than 20,000 power outages during the high winds Friday afternoon. United Illuminating reported more than 500 power outages.
In New Haven, a pediatric medical center at One Long Wharf Drive lost power, so the building was evacuated. The power was restored, but the building closed early for the day because the normal closing time is 4 p.m.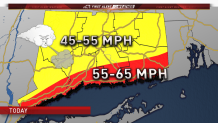 Wind Damage Reports, Road Closures and Train Delays
Cherry Lane in Durham is closed due to an overhanging tree. Town officials said due to the windy conditions, Eversource crews cannot safely remove the tree. They expect the road to be closed for several days. Residents up to 230 Cherry Lane can access their street via Higganum Road. Residents after 235 can use Old Blue Hills Road.
Route 138 in Lisbon is closed after a large tree came down on wires.
North Stonington reported multiple road closures due to downed trees and wires, including:
Route 184 by Stillman Road
Babcock and Reutrmann Road
Wyassup and Babcock Road
214 Denison Hill
Lake of Isles Road
470 Route 49
472 Pendleton Hill Road
Click here for more details on the closures.
In Orange, Route 114 was closed in both directions at Whtie Wood Road after a tree came down.
Shoreline East and Amtrak trains were delayed when trees came down on tracks.