A strong line of thunderstorms moved into western Connecticut Tuesday afternoon.
A severe thunderstorm warning was in effect for New London, Middlesex, Fairfield and New Haven counties, but all warnings have since expired.
The potentially severe weather is part of a strong cold front moving through the state.
Hail has been spotted in towns from Fairfield to West Hartford.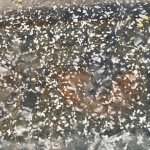 The cold air on the backside of the storm is leaving snow in hill towns, like Colebrook and Norfolk.