The NBC Connecticut meteorologists are tracking storms moving through the state Friday and over the weekend.
Severe thunderstorm warnings were issued for parts Tolland, New London and Windham counties but have since expired.
The storms moving through Connecticut Friday contain lightning, heavy rain, and gusty winds.
The better chance for storms will be this weekend.
Both Saturday and Sunday feature the chance for showers and storms but there is a lot of uncertainty in the exact timing. The good news is the weekend does not look like a washout and there will be plenty of dry hours to get outside. Temperatures will also be cooler!
Saturday will start partly sunny with increasing rain chances in the afternoon and evening. Any storms that develop could be severe but the greatest concern right now looks like locally heavy rain.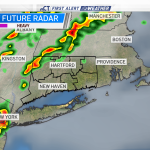 Sunday will feature periods of off-and-on rain as well.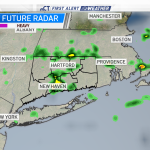 The unsettled pattern looks to continue next week! No super wet days, but rain chances will be sprinkled throughout the week.