The NBC Connecticut meteorologists are tracking storms Tuesday night.
Severe thunderstorm warnings were issued for Windham, Hartford and Tolland counties but have since expired.
The storms bring lightning, heavy rain, and strong winds.
The storms rolled into the state late Tuesday afternoon on a day when Connecticut broke a record for a high temperature on this date.
The temperature at Bradley International Airport reached 99 degrees Tuesday, breaking a record for the day set back in 1934.
Tuesday also marked the third straight day of temperatures in the 90s, officially making it Connecticut's second heatwave of the year.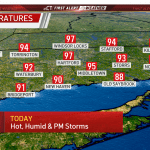 The heat index or "feels like" temperature reached around 102 away from the water.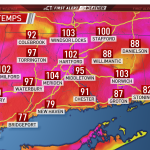 Cities and towns have opened cooling centers to help provide relief from the heat. If you're looking for one near you, you can call 211.
Since it's over 90 degrees at Bradley today, we're officially in our second heat wave of the month.
Tomorrow looks similar today with highs in the upper 90s. There is a better chance for a severe thunderstorm in the afternoon or evening.
By Thursday, it's a little cooler with highs in the low 80s. Showers are possible and we are keeping an eye on the forecast through Sunday with several chances for rain.
You can get the latest forecast anytime here.
Stay in air-conditioned buildings as much as possible. If you must be outdoors, try to limit your outdoor activity to the morning and evening. Try to rest often in shady areas so that your body has a chance to cool off.
Find an air-conditioned shelter. (Call 2-1-1 for a list of cooling centers). Do not rely on a fan as your primary cooling device.
Avoid direct sunlight.
Wear lightweight, light-colored clothing.
Take cool showers or baths.
Check on those most at-risk several times a day.
Pets that cannot be brought indoors should be provided ready access to water and shade to keep them cool.