A tornado warning that was in effect for Litchfield County has since expired.
The National Weather Service issued the warning until 6:15 p.m.
A tornado warning means rotation has been detected in a severe storm. There was quite a bit of lightning with this storm.
There were severe thunderstorm warnings in effect for Hartford, New Haven, Fairfield and Litchfield counties but they've since expired.
Wind gusts reached up to 60 mph and some areas saw hail and heavy rain.
A severe thunderstorm watch was added for Tolland and Windham counties but has since been canceled.
The risk of severe weather comes along with warm, humid conditions Monday.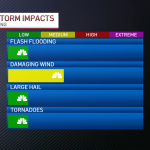 The storms moved through western Connecticut first and then into the eastern part of the state. As they moved east, they weakened.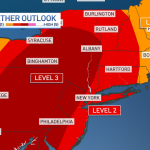 What to Do If There is a Tornado Watch or Warning
If there is a tornado warning, you should seek shelter immediately.
If you are in a car:

Stop.
Do not try to outrun the tornado.
Get out of the car and lie flat, face-down in a low area.
Cover your head and wait for the tornado to pass.

If you are at home:

Go to the basement, storm shelter, or a room near the middle of the home.
If you are in a tall building:
Go to the middle of the building, such as a stairwell or hallway.
Before a Tornado
Prepare an emergency kit.
Look for the following danger signs:

Dark, greenish sky.
Large hail.
A large, dark, low-lying cloud.
Loud roar, similar to a freight train.
If you see approaching storms or any of the danger signs, be prepared to take shelter immediately.
During a Tornado
If you are in a structure, go to a pre-designated shelter area such as a safe room, basement, or storm cellar. If there is no basement, go to the center of an interior room on the lowest level away from the corners, windows, doors and outside walls.
In high-rise buildings, go to a small interior room or hallway on the lowest floor possible.
If you live in a mobile home, get out immediately and go to the lowest floor of a sturdy nearby building or storm shelter.
If you are outside with no shelter:

Immediately get into a vehicle, buckle your seat belt and try to drive to the closest sturdy shelter.
If you can safely get noticeably lower than the level of the roadway, leave your car and lie in that area, covering your head with your hands.
Do not get under an overpass or bridge. You are safer in a low, flat location.
Never try to outrun a tornado in urban or congested areas in a car or truck. Instead, leave the vehicle immediately for safe shelter.

Watch out for flying debris. Flying debris from tornadoes causes most fatalities and injuries.
After a Tornado
Use caution if entering a structure that has been damaged.
When handling or walking near debris, wear sturdy shoes or boots, long sleeves, and gloves.
Report electrical hazards to the police or utility companies.
If you suspect any damage to your home, shut off electric power, natural gas, and propane tanks to avoid fire, electrocution, or explosions.
Highs today will be near 80 with mostly sunny skies. It will be humid and will feel like summer.
Temperatures for Tuesday, Wednesday and Thursday will be in the low to mid 70s.