Isaias has been downgraded to a tropical storm on Tuesday after making landfall near Ocean Isle Beach in North Carolina late Monday night, according to the National Weather Service.
A tropical storm warning has been extended and now includes all of Connecticut as Isaias makes its way toward the state.
The tropical storm warning is in effect for Hartford, Tolland, Windham, Fairfield, Litchfield, New Haven, Middlesex and New London counties.
NBC Connecticut meteorologists say the greatest impacts for Isaias in Connecticut is expected to ramp up around 2 p.m. on Tuesday and go through about 10 p.m.
Tornadoes are possible Tuesday in any squalls that develop. The window for this is from daybreak through the evening. Our meteorologists will be watching the radar and are advising residents to be prepared to seek shelter if a warning is issued.
The wind potential is increasing and our meteorologists say they are concerned about widespread downed trees and power outages. Wind gusts from 50 to 70 mph are possible across the state as the storm peaks.
Since the state is on the "right" side of the storm track, some downpours are expected but flooding seems unlikely. The heaviest rain axis has shifted west into New York.
The peak of the storm surge will occur around the time of low tide. Some splash over and minor flood issues are possible but generally, coastal flooding should be limited.
Residents should also be prepared for power outages and downed trees.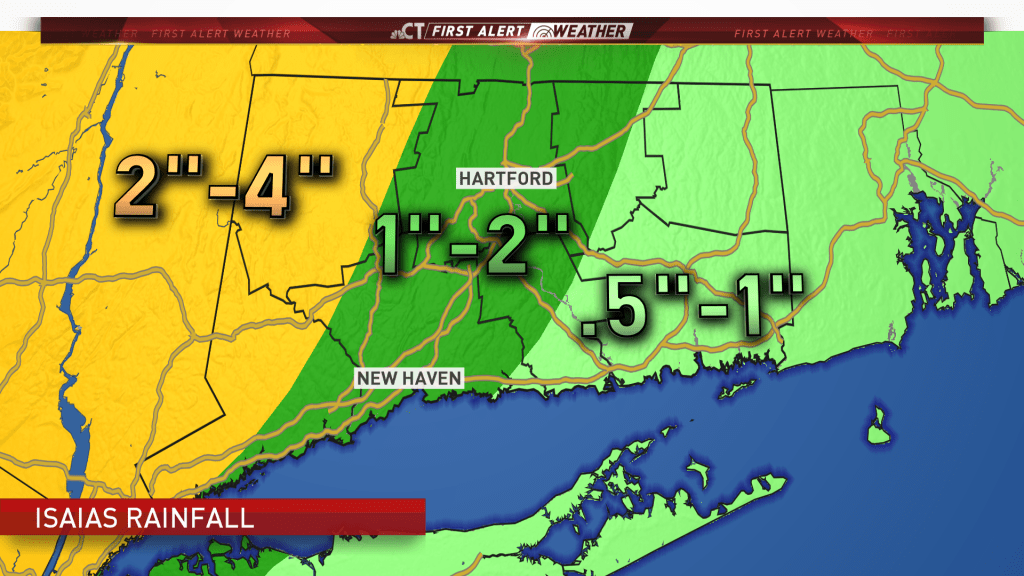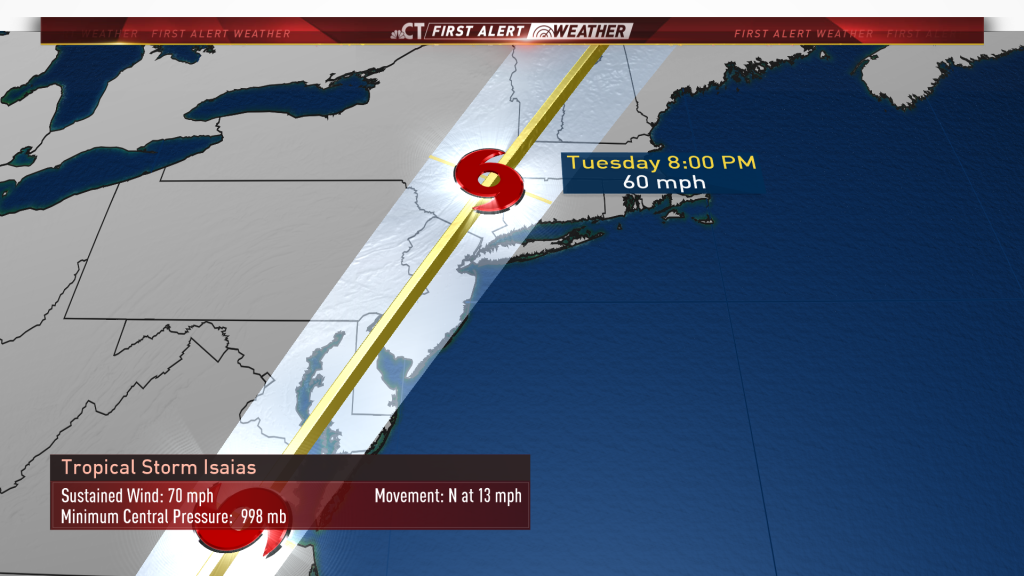 The storm is also expected to arrive earlier now with the worst conditions Tuesday afternoon and evening. While rain isn't the primary concern locally heavy downpours are expected, especially in western Connecticut with thunderstorms and even an isolated tornado possible.
The exact track of the system will have a big impact as to what kind of impacts we see here in Connecticut. NBC Connecticut meteorologists say rain and wind will happen, but the question is how much.
NBC Connecticut chief meteorologist said we are under an enhanced tornado threat tomorrow and storms in the outer bands of Isaias are capable of producing brief tornadoes