Scattered storms are possible Friday night after another hot, humid day across the state.
A few downpours or storms are likely through this evening. The overall severe weather risk is low but torrential rain is possible if you get stuck under one. Severe thunderstorm warnings were issued for parts of Hartford, Tolland and Windham counties but have since expired.
Track conditions in your area using our interactive radar.
The storms roll in amid more heat. The entire state with the exception of northern Litchfield County falls under today's heat advisory in effect until 8 p.m. and some schools dismissed students early Friday.
While it won't be as hot as Thursday, temperatures today will still climb into the upper 80s and low 90s.
Canterbury Public Schools, East Hartford Public Schools, Killingly Public Schools, Monroe Public Schools, New Milford Public Schools, Scotland Public Schools, Thompson Public Schools, Watertown Public Schools, Windham Public Schools, the St. John's School in Watertown and the Gilbert School in Winsted all dismissed early.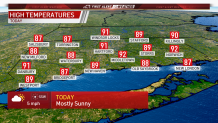 With sticky dewpoints in the 70s, it will feel closer to the triple digits throughout the afternoon.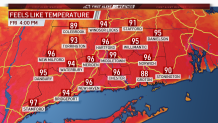 The heat and humidity might fuel up a few widely isolated thunderstorms later this afternoon.
The weekend will be much cooler with high temperatures in the 70s and significantly lower humidity.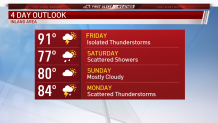 Most of Saturday will be dry, just cloudy, but a few spotty showers are possible. Sunday will feature a bit more sunshine but still plenty of clouds.