Hopefully you've been able to stay cool. We're looking at another hot day across the state on Sunday.
The heat advisory currently in place lasts through 8 p.m. on Sunday evening.
Heat indices (aka feels like temperatures) will exceed 100 degrees Sunday afternoon.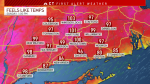 In addition to the heat, we'll be watching the chance of a few thunderstorms developing on Sunday, as well. Parts of the state are under a level 1 risk for severe weather in the afternoon.