Some scattered showers are possible overnight with more rain expected Tuesday.
Tuesday looks much drier but there will be a few isolated showers.
A line of strong thunderstorms moved through parts of Connecticut Monday morning. The storms entered western Connecticut before 7 a.m. and moved through the state, bringing frequent lightning, heavy rain, and high winds.
Lightning sparked a house fire in West Hartford, according to fire officials.
The storms moved out before 10 a.m.
Off and on periods of rain will continue through late this evening.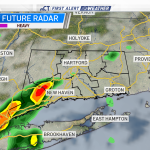 Some towns saw impressive rainfall totals on Monday. Simsbury saw more than two inches of rain while Sharon saw nearly an inch and a half.
High pressure moves in Wednesday and will keep our skies clear and temperatures comfortable through the end of the week.
The coming weekend could see some rain on Saturday, but as of now, it looks like Father's Day Sunday will be mostly sunny with temperatures in the 80s.