After a nice Sunday with drier air and lower temperatures, some rain showers are expected across the state on Monday.
NBC CT Meteorologists are expecting a few showers around daybreak.
Scattered storms will redevelop midday and afternoon. Our meteorologists say there is a low chance for a severe storm.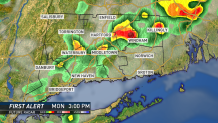 It will be warm and humid with highs in the upper 80s to 90s.
Better weather is expected Tuesday and later in the week with a noticeable drop in humidity.
You can follow the storm threat for Monday in our first alert forecast.