NBC Connecticut First Alert meteorologists are forecasting a shower or thundershower chance to end the weekend.
While many towns will stay dry, a bit of unstable air will be in place and help to develop some downpours anytime after noon. The threat will last until 6 p.m.
First Alert Doppler Radar is picking up thunderstorms near Bristol with gusty winds.
Temperatures Sunday will be in the high 70s to near 80 degrees inland. The shoreline will see temperatures in the low 70s.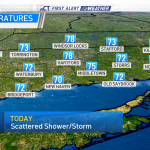 Beyond today, the main weather headline will be an increase in temperature. In fact, some towns away from the shore could see their first 90-degree temperatures by midweek.
Besides a few scattered showers both today and Monday, much of the extended forecast is mainly rain-free.