An area of high pressure will bring a stretch of sunny, seasonable weather for both days this weekend.
While a cold front tracked across the state late Saturday, it came through fairly dry with just a wind shift to the northwest.
The average high temperature for this time of the year is around 77 degrees. Temperatures this weekend will average in the upper 70s to lower 80s.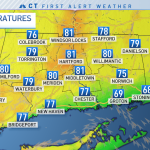 Sunday's high temperatures will average a few degrees cooler with plenty of sunshine and low humidity.
Much of next week looks dry with the exception of a couple of shower chances as weak fronts move through the northeast.