A strong cold front has moved through the state resulting in cold temperatures for Sunday night and into Monday morning.
The wind could be heard picking up around the state early Sunday afternoon. Snow squalls were being reported.
Gusts to 50 mph are possible along with a rain or snow shower as the front passes. Wind gusts in Hartford were clocked at 50 mph around 4 p.m.
Trees Down Because of Windy Conditions
Weather Stories
Fire officials say a large tree on wires caused power outages in Tolland. The tree was down on Buff Cap Road and Sugar Hill Road Sunday night, according to crews.
The CT Department of Transportation reported several trees down as a result of windy conditions passing through the state.
In addition, Bridgeport officials reported multiple wind-related incidents.
On Lakeside Drive, a tree fell into a structure and crews say the structure is not stable at this time. United Illuminating has been notified of the incident.
At Asylum Street and Boston Avenue, a tree fell down on power lines. There was also a large tree down on power lines at Evers Street and East Main Street, according to officials.
By Monday morning, bitterly cold wind chills will be felt across the state. Wind chills or "feels-like" temperatures will be in the single digits above and below zero.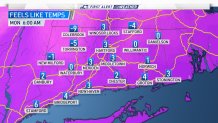 The average high temperature for this time of the year is normally in the upper 40's. The forecast high temperatures for Monday is for upper 20's to the lower 30's.
Somewhat milder air arrives by Wednesday, St. Patrick's Day.