NBC Connecticut meteorologists are forecasting some unseasonably cold weather today.
There will be plenty of sunshine today, but temperatures are about 20 degrees below average and gusty wind is adding insult to injury! With wind coming in from the west between 10-20 mph, it will only feel like the teens and low 20s through the afternoon and evening.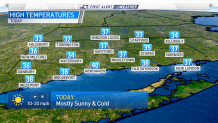 Temperatures will drop between 17 and 25 degrees overnight under clear skies, so the kids will really need to bundle up at the bus stop Thursday morning!
Tomorrow will be warmer, but still below average, with highs in the 40s and partly sunny skies. High pressure will build to our south by the end of the week and that will usher in mild air for Friday and the weekend. Expect temperatures near 60 by Friday and in the 50s over the weekend.