After a mild start to the weekend, colder air has returned to the state.
High temperatures are expected to average about 10 degrees below normal statewide. The average high temperature for the day is 48. Most of the state will be in the upper 20s and 30s.
Along with the colder temperatures, there will be a gusty breeze for most of the day. Gusts over 20 mph will be frequent through the afternoon. These gusts will create a wind chill in the teens and 20s for most of the day.
The cold air does not stick around very long. By Monday, temperatures will rebound closer to 50 degrees. Most of next week (the first week of spring) will feature high temperatures in the middle to upper 50s.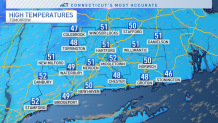 You can get the latest forecast anytime here.
Weather Stories