Thursday was cloudy and cool. A few areas of rain moved through.
There is a slight storm chance overnight with a line associated with severe weather. Our severe weather risk is low tonight but some storms could be on the stronger side and produce downpours. It will also be muggy and only cooling into the 60s.
Friday will be sunny, with high temperatures approaching 90°. A few thunderstorms are possible in the early afternoon. We can't rule out a strong or severe storm for Friday.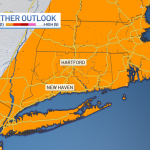 It will be sharply cooler Saturday with a mix of clouds and sun.