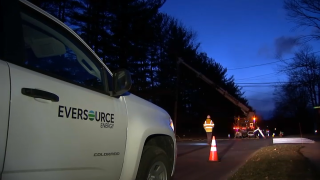 The cold snap is upon us as people bundle up to stay warm and crews work to restore power all across Connecticut.
"It's starting to get colder in the house, so can't wait until they turn the electricity back on," said Charles Bellingrath, of West Hartford.
The power was out for a few hours for Bellingrath at his West Hartford home. He's getting by with a single candle as he waits.
"It's one candle watt per hour, however you say that," he said.
Crews are working to repair power lines after strong winds knocked trees into them. The blast of arctic air is plummeting temperatures into the single digits.
"It is brutally cold right now. It's been a really warm winter, so we're used to being as cold as it is right now," Jeremy Kempner, who lives in West Hartford, said.
Power outages popped up all across state with Eversource crews working through the night.
"We work year-round to maintain and upgrade the system to make it more resilient to extreme weather, including the bitter cold conditions that are in the forecast," Eversource spokesperson Mitch Gross said.
"This includes installing distribution automation technology like smart switches that allow our remote system operators to isolate outages and reroute power. We are keeping a close eye on the extreme cold and gusty conditions, and our crews and remote system operators will be ready to respond to any issues that may arise," he continued.
At Welden Hardware in Simsbury, shop manager Scott Guzzo-Plum says people prepped for the weather all week long, grabbing items like space heaters and wood pellets for pellet stoves.
He said it's all about staying warm and keeping homes intact.
"They're going to prep for cold pipes. They're going to prep to ensure they have enough firewood or kindling or buy gasoline if their generator is possibly needed," Guzzo-Plum said.
For some homeowners, a generator came in handy.
"Having a little bit of power, we were able to hook up internet and heat and with that, we can pretty much get by," Kempner said.
Bellingrath said he was pleased with the fast response of Eversource crews. He's optimistic he'll be able to get heat at home again.
"My wife's a little more worried, but I'm confident," he said.