A fast-moving storm is bringing rain and snow today and some schools have early dismissals or remote learning Monday because of it.
There is some moderate snow in Canton on Monday afternoon.
A fast-moving area of low pressure is expected to track to the west of the state today, which will bring in milder air. A burst of snow is likely Monday afternoon with a quick change to rain south of Hartford. There will be mainly plain rain along the shore.
NBC Connecticut meteorologists are forecasting one to three inches of snow for a portion of northwest Connecticut while other parts of the state will get a coating to one inch and cities and towns along the shoreline see rain.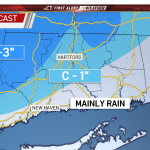 A Winter Weather Advisory has also been issued for Fairfield and Litchfield counties through 6 p.m.
The hill towns might hold onto snow a bit longer before the precipitation tapers off during the evening. While most of the state will see only a minor accumulation (away from the shoreline), the hills could pick up a couple of inches of snow.
The storm moves out quickly and milder weather is expected to follow for the rest of the week. Highs will be in the 40s for most of the week.