Sunday's snowstorm has moved out of Connecticut after dropping more than six inches of snow in parts of the state.
Some schools are already announcing delays and switching to remote learning for Monday. See the full list here.
The snow was very fluffy and accumulated quickly, so some towns picked up higher totals.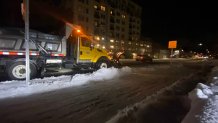 The snow completely moved out of the state by 7 p.m. on Sunday.
In New London, public works crews started working early in the morning to pre-treat the roads. They worked through the day and into the evening.
Fifteen crews worked to plow roads across the city and when the snow stopped falling, the crews continued their work.
They spent most of the night making multiple passes and tucking in any excess snow on the main roads. They are concerned about the remaining slush and snow icing up overnight.
Our First Alert meteorologists are also tracking a storm system that could bring 1 to 3 inches of snow to the state on Tuesday.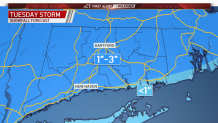 For more information, click here.