After a burst of snow, some occasional light snow will fall on and off through tonight and into tomorrow and some schools will have remote learning on Friday. See the list here.
Roads Friday morning may be slippery but conditions should not be terrible for driving.
The NBC Connecticut meteorologists have issued a First Alert for all of Connecticut.
Because of the snow, some schools decided to have a remote learning day or dismiss students early on Thursday.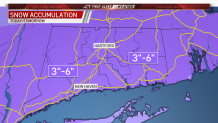 As of Thursday evening, Old Saybrook had five inches of snow, Guilford and Clinton say 4.5", and Bridgeport had 3.4 inches. The shoreline saw higher totals than inland.
As snow coated roads, there were some traffic issues.
The snow will continue overnight and into Friday morning, but there could be scattered snow into Friday afternoon.
An accumulation of three to six inches is expected statewide, according to the NBC Connecticut First Alert Weather team.
The National Weather Service issued a Winter Storm Watch statewide ahead of the storm.
Some milder air might mean sleet will mix in along the immediate shoreline before the storm ends midday on Friday.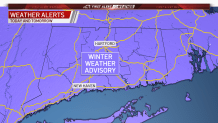 The best chance of higher snow totals will be in the northern half of the state.
Weather Stories