Severe storms moved through Connecticut Saturday afternoon, causing flooding and storm damage throughout parts of the state.
A bridge in Ashford collapsed because of the severe storms that passed through the state. It is unclear if anyone was hurt.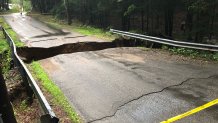 In Tolland, fire crews responded after lightning struck a utility pole on Tolland Stage Road, also known as Route 74. The incident took primary electrical wires down and power was out in the area, according to firefighters.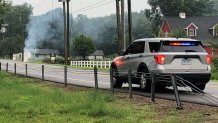 Officials said Route 74 was closed near the Country Butcher and the intersection of Skungamaug Road, but it has since reopened. Drivers are being asked to use caution in the area while Eversource makes repairs.
Also, Old Stafford Road was closed between Slater Road and Charter Road.
A large tree fell down on wires on Pinney Hill Road in Willington.
Thomaston Police said Waterbury Road was closed between Carter Road and Frost Bridge Road because of flooding.
In Wethersfield, crews are investigating after lightning struck a tree next to a home on Onlook Drive. Firefighters are working to determine if there is damage to the home.
The thunderstorms contained localized heavy rain, gusty winds and even had a low risk for a tornado.