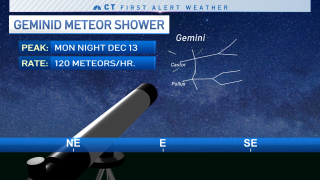 Early this week, the Geminid meteor shower peaks in the eastern sky.
Head away from city or town lights and look east toward the constellation Gemini Monday night into Tuesday morning and you may catch a glimpse of shooting star flying across the sky.
However, similar to this year's Leonids last month, stargazers will have to contend with the moon's brightness on the peak night.
The moon sets around 2:45 a.m., so between moonset and sunrise brings the better conditions for seeing any meteors.