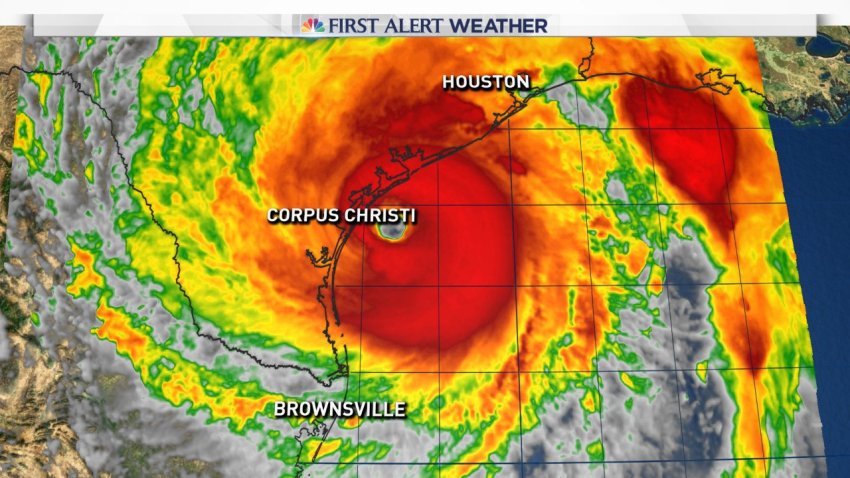 Harvey has been a humbling storm for tropical forecasters. Just 48 hours ago the forecast from the National Hurricane Center was for a strong tropical storm or minimal hurricane to make landfall just east of Corpus Christi. Tonight it appears clear Harvey will make landfall as a category 4 hurricane. We're not that good forecasting rapid intensification of hurricanes and Harvey is another example of that.
The story tonight will be the wind and the storm surge. A deadly combination. This hurricane will likely be the first category 4 hurricane to make landfall in the United States since Hurricane Charley in 2004 and in Texas since Hurricane Carla in 1961.
If there's any positive news on a day where Harvey strengthened quickly it's that the worst of the storm will be in a fairly rural area. Not Houston, not Galveston, and not Corpus Christi. Matagorda Bay (no stranger to hurricanes - do a Google search on Indianola, Texas) will bear the brunt of the storm initally.
Beyond tonight the story with Harvey will likely be the rain. In fact it's possible the inland rain and flooding may be more destructive and costly than the initial wind and storm surge. While the storm's intensity was not well forecast what hasn't changed over the past few days is the forecast for exceptional rainfall in Texas. Harvey is already slowing down and expected to stall near the coast. Days of rain will inundate Texas as the storm crawls along the coast.
So what are the state and national tropical cyclone rain records? 48.00" in Texas from Amelia in 1978. In Connecticut the record is 16.86" from Tropical Storm Diane (which cause the historic 1955 flood).