A line of showers and thunderstorms is making its way through parts of Connecticut Monday afternoon.
The storms are bringing heavy rain, with some lightning to parts of Litchfield, Hartford, New Haven, and Fairfield counties as of 2 p.m. The line of storms was continuing south and east through the state.
A lightning strike has caused a power outage in North Haven, which is affecting traffic lights at the intersection of Routes 5 and 22, according to police.
The rain won't bring much relief from the ongoing heat and humidity. Monday marked the seventh day in a row of 90-plus-degree temperatures across interior Connecticut.
Along with the heat, high humidity will continue with dew point temperatures that will remain in the low-70s. The "feels-like" temps will be close to 100 for this afternoon. A heat advisory continues for the entire state until Tuesday evening.
Weather Stories
The governor is directing Connecticut's extreme hot weather protocol, which went into effect on Aug. 2, to remain in effect through 8 p.m. on Tuesday.
Anyone in need of a cooling center should call 2-1-1 or look online at 211ct.org to find their nearest available location.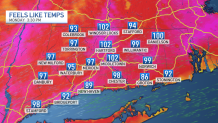 Some relief from the heat is expected toward midweek. A slow-moving cold front will bring increased shower and thunderstorm chances through Thursday.
High temperatures will also drop from the 90s to the 80s by midweek.