The NBC Connecticut First Alert meteorologists are tracking a quieter evening on the way after scattered thundershowers. The storms moved through between noon and 5pm Friday afternoon.
There are no active severe thunderstorm warnings in Connecticut. Heavy rain in New London County has moved out and the flood advisory was dropped early.
Storms moved through pretty quickly but some damage reports came in as things cleared up. Downed trees and wires were reported in Mansfield around 2:20 Friday afternoon.
West Hartford also saw some damage. Notice the clear skies in this photo - once storms moved out, sunshine quickly returned.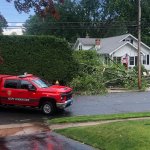 Severe level and smaller, pea size hail was reported in Norwich
Scotland reported damage around 2:30 Friday afternoon. Over 20% of Eversource customers in Scotland are without power as of 5:55 p.m.
Outside of the storms, this afternoon will be fair, breezy and summery. High temperatures today will get into the upper 80s.
Saturday will bring partial sun and it will be chilly, with temperatures only in the 60s-to-near-70.
Father's Day will be sunny with highs in the lower 70s.