A hurricane warning has been issued for the Connecticut shoreline east of Fairfield County ahead of the arrival of Henri, marking the first time the state has seen a hurricane warning since Irene in 2011.
Fairfield County is currently under a tropical storm warning. The entire Connecticut shoreline is also facing a storm surge warning ahead of Henri, currently a tropical storm in the Atlantic Ocean off the Carolinas.
NBC CT meteorologists expect Henri to pick up and become a hurricane by Saturday morning.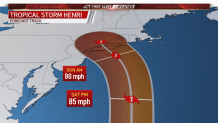 Gov. Ned Lamont is declaring a state of emergency ahead of the arrival of Henri, including activating the Connecticut National Guard. The governor is ordering 200 Guardsmen and Guardswomen to active duty beginning Saturday morning to support the state's response.
"With the current forecasted track of Henri, we can expect heavy rainfall and high winds, with the potential for a significant amount of coastal flooding and urban flooding across Connecticut," Lamont said in a statement. "Right now, it's a good idea for everyone to be prepared and expect to shelter in place by Sunday afternoon through at least Monday morning. We'll continue to monitor the storm's progress and will provide updates as necessary.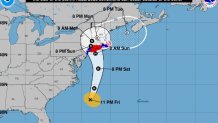 The update at 11 p.m. from the National Hurricane Center has the eye of Henri in Connecticut on Sunday evening. Right now, Henri has wind gusts of up to 70 mph but that number is expected to increase.
The storm is set to make landfall first over the eastern forks of Long Island on Sunday before moving over the Long Island Sound and making a second landfall on the New Haven/Middlesex counties line.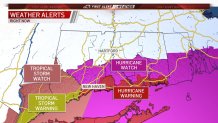 As utility companies prepare for the storm, Eversource's president and CEO, Joe Nolan, said the company is classifying the storm as a Level 3 event, meaning up to 49% of customers could be without power for five to 10 days.
Weather Stories
"We've just now declared a Level 3, you need to be prepared for a loss of power for up to five to 10 days in a Level 3," Nolan said.
"This will be a very significant storm," said Nolan.
He is asking customers to "be patient, be prepared." Nolan said the slow pace of the storm and the possibility that it could stall over the area is causing concern.
The governor is also asking the White House for a pre-landfall presidential emergency declaration to pave the way for federal assistance.
The governor's office said Lamont has spoken with FEMA and state emergency leaders.
Henri was off the coast of the southeastern U.S. Friday evening and is expected to strengthen into a hurricane as it moves up the eastern seaboard.
If the storm stays on its current track, Henri would bring very heavy rain to most of Connecticut and could mean widespread flooding across the state. The storm would also bring strong winds, but the strongest winds would be east of the eye.
Any shift in the track east or west between now and Sunday would mean a change in how much wind and rain we could expect in Connecticut.
NBC Connecticut's team of First Alert meteorologists will track Henri and provide you with the latest information on the storm on-air and online.
The United States Coast Guard is urging boaters to stay off water, be prepared, evacuate as necessary, stay informed and look out for rip currents.
Connecticut Campgrounds Closing
All state campgrounds are set to close Saturday at 4 p.m. until at least 1 p.m. on Monday, Aug. 23.
According to DEEP, all campers must leave the campground during the closure period. RV equipment may remain in the campgrounds, but at the risk of the owner.
DEEP said refunds up to two nights will be issued for all campus with reservations for Saturday and/or Sunday nights. Those campers arriving Friday can either stay Friday night or not and receive a refund if they choose not too stay, according to DEEP.
In addition, DEEP says it will be removing state boat launches in preparation for the storm.
City of Groton Recommends Voluntary Evacuations
Some Groton residents are being asked to voluntarily evacuate their homes because of a hurricane warning that's been issued ahead of the arrival of Henri. The City of Groton is recommending that residents on Shore Avenue, Beach Pond Road, Pine Island Road and Jupiter Point Road evacuate Saturday night ahead of the storm. More details are available here.