The National Weather Service has placed Northern Litchfield county in an ice storm warning. A winter weather advisory is issued for the rest of northern Connecticut. Ice storm warnings are issued when more than one half inch of ice accretion on trees, power lines along with slippery travel.
We have decent confidence that most of northern Litchfield county could experience major issues with widespread power outages.
A prolonged period of icing in possible in parts of Litchfield, northwestern Hartford, and northern Tolland counties.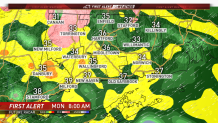 Some of our computer models show up to and over a half inch of ice accretion for northern Litchfield county. This amount of ice accretion could result in some tree damage and power outages. Closer to .75" of ice can cause significant tree damage and more widespread power outages.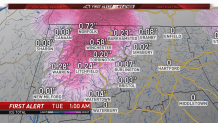 The ice storm warning is in effect from 5 p.m. Sunday through 7 a.m. Tuesday for significant icing expected due to freezing rain. Winds could also gust as high as 35 m.p.h. The winter weather advisory for Hartford, Tolland, and Windham counties begins at 6 p.m. Sunday evening with mixed precipitation expected in those areas.
We expect the icing situation in the hill towns to continue for much of Monday before coming to an end early Tuesday morning.
Other parts of the state should expect a cold one to two inches of rain with temperatures in the middle to upper 30s. Partially clearing skies are expected in time for First Night festivities on New Year's Eve.