Hundreds of Connecticut homes remain without power a day after powerful winds whipped through the state. Eversource said some customers might not be restored until Wednesday night.
Some Residents Still Without Power in Conn.
Eversource is reporting more than 680 power outages as of 7 a.m. Crews spent much of the day on Tuesday working and were sometimes hampered by lingering gusts.
"More than 35 miles an hour is a little risky to be up there working around dangerous equipment and have the wind blow you around," Eversource spokesperson Frank Poirot said.
Eversource said on Tuesday afternoon that hundreds of line and tree workers restored power to more than 32,000 customers and the company plans to restore power to most customers by 6 p.m. today.
"Eversource expects to have the vast majority of the remaining 14,000 customers without power back on line by Wednesday at 6 p.m. with many being restored sooner," a news release from the company said.
United Illuminating says there are currently no outages affecting any customers.
Photos: Stong Wind Causes Damage Across CT
A train was delayed Tuesday morning after hitting a tree, according to CTrail Hartford Line Alerts. Officials said Amtrak Hartford Line Train #141 was running 25 to 30 minutes after it hit a tree. It's unclear if the train is damaged.
Several Roads Closed After Wind Brings Down Trees & Power Lines Across Conn.
Several streets across the state were closed after the wind brought down trees and power lines.
A tree came come down across Blissville Road in Lisbon.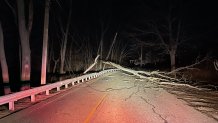 Part of Route 4 in Burlington was closed after a tree and wires came down on a vehicle.
In Ellington, a tree came down on a house in Cliff Street.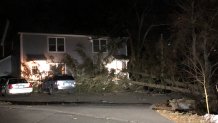 Route 75 at Tiffany Drive in Windsor was closed after a tree came down across the road.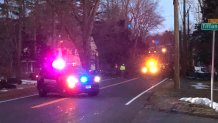 See the list of road closures on the CT Travel Smart website.
Other road closures included:
East Hampton: Route 196 at Route 66 due to a tree across the road
Hebron: Route 85 at Abby Drive due to a tree in wires
Southington: Route 322 at Route 120 due to a tree across the road
Wethersfield: Route 314 at Goodwin Ave. due to a tree across the road
North Stonington: Route 184 between Route 49 and Route 216 due to a tree down in the road
Newington: Route 174 at Maple Hill Road due to tree in wires
Pomfret: Route 169 at Harrisville Road due to wires across the road
Farmington: Route 177 at Coopermine Road due to wires across the road
Woodstock: Route 169 closed right before Mass. state line due to wires across the road
Windham: Route 6 at Old Windham Road due to wires across the road
Seymour: Route 313 at Clinton Road due to a tree down and Route 188 at Squantuck Road due to a tree across the road
State police said the high winds sent highway signs flying including near exit 28 on the Cheshire/Southington line and in Manchester at the Buckland Hills exit where the sign ended up in the HOV lane.
Wind, Frigid Air Bring Wind Chill Values Below Zero
The wind coupled with frigid air resulted in wind chill values below zero throughout much of the state on Tuesday morning.
Spring-Like Weather Returns Today
The bitter cold will be short-lived with temperatures moderating once again into the 40s and close to 50 degrees by this afternoon.