A breezy northwest wind will result in single-digit wind chills in parts of the state for Sunday morning.
Sunshine will dominate for Sunday with highs in the low to middle 30s.
Looking ahead: A storm system will approach by Monday afternoon and evening. This storm will go to our west, which will pull in warmer air from the south.
We expect rain to overspread the state, but it could begin as a round of snow, especially in the hills. Some accumulation is possible. We expect mainly rain south of Hartford.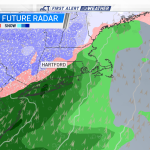 Get the latest updates on the forecast here.