The record-breaking cold we started the weekend off with is moving out and milder air is moving in for the second half of the weekend.
Temperatures will actually begin to climb this evening and through the overnight tonight.
By Sunday, our above average winter of 2023 continues.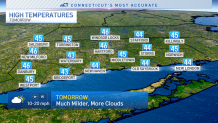 High temperatures are once again expected to rebound into the low to mid 40s across the state.
There will still be some wind on Sunday but with warmer air temperatures, it won't feel nearly as cold as Saturday.