An upper level low pressure system will push through northern New England early Friday morning. This will result in scattered showers throughout the area.
There is a small amount of instability that could result in a few of the showers becoming thunderstorms.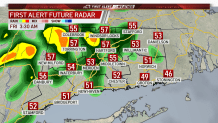 As the storm system continues to lift to our northeast strong southwest winds will develop for Friday afternoon and evening.
A Wind Advisory is in effect for the area. Gusts of 45 to 50 mph are expected Friday afternoon and evening.