Residents in some Connecticut towns are dealing with severe storm damage after a tornado and severe thunderstorms just a few weeks after Tropical Storm Isaias and the governor has declared a state of emergency to expedite response.
Power is out for thousands of homes a day after the storm.
United Illuminating expects most of the customers who lost service will be restored today. Restoration should be substantially complete Saturday, but customers in areas where damage is so severe that crews will have to rebuild the electric system are expected to be restored by Monday.
Eversource said it will substantially complete restoration for all towns in by midnight, except in Branford, which is expected to be substantially complete by Saturday night
First Alert Chief Meteorologist Ryan Hanrahan said after reviewing the radar data it's clear a tornado did touch down Thursday afternoon. Radar detected tornado debris that was lofted into the air over Bethany and Hamden between 3:55 p.m. and 4 p.m.
The National Weather Service will investigate to determine the path width, length and intensity of the tornado.
On Friday afternoon, Gov. Ned Lamont said he proclaimed a civil preparedness emergency, or state of emergency, in response to the significant damage and the declaration authorizes him to order certain actions that will help expedite the response.
Weather Stories
The announcement came after he visited some of the hardest hit areas Friday, including North Haven and Branford.
"Yet again, we were hit really heard," Lamont said during a news conference in North Haven Friday morning.
Immediately after the storms, the governor deployed around 100 personnel from the Connecticut National Guard Response Force and two search and rescue teams to East Haven and Branford to assist in the response and route clearance teams were also sent to North Haven.
"This powerful storm that moved so quickly into our state yesterday evening caused severe damage in certain communities and left thousands without power, just a couple of weeks following similar damage from Tropical Storm Isaias," Lamont said in a statement. "I remain in consistent communication with town leaders and utility officials so that we can move resources to where they are most needed at this time."
POWER OUTAGES
As of 9 p.m. p.m., United Illuminating is reporting just under 6,000 customer power outages and Eversource is reporting around 6,500.
United Illuminating supplies power to North Haven and the governor pointed out that the company has smart meters, which allow the company to see who has power and who does not.
Tony Marone, of United Illuminating, was at the news conference with the governor and said there is a swath of devastation rather than widespread damage and his crews are working hard to restore power.
They started working Thursday night with the National Guard, which has been clearing roads to make them passible.
Around 29,000 UI customers had been out of power at one point and Marone said the utility company will bring the number of outages down significantly during the day Friday.
There were, however, areas of destruction and they will have to do some rebuilding in the next day or two.
In a statement, United Illuminating said they expect most customers who lost service on Thursday to be restored today and restoration should be substantially complete Saturday.
The exception, the company said, will be customers in areas where damage is so severe that crews will have to rebuild the electric system. The company expects those customers to be restored by Monday.
After North Haven, Lamont went to Branford, where he and Major General Fran Evon, the adjutant general of the Connecticut National Guard, met with National Guard search and rescue teams in Branford as well as local officials.
"You were hit harder than any other community in this state," Lamont said.
As of 2:45 p.m., nearly 5,000 Eversource customers in Branford do not have power.
Lamont called on residents to give utility workers space amid the COVID-19 pandemic as they restore power and to show respect and thanks for what the front-line workers are doing.
He also said this is becoming a more frequent event, with these storms coming three weeks ago after Tropical Storm Isaias.
"We're going to be better and better prepared for a faster response and I'd like to think most of you will be on, almost all of you, by the end of today, and certainly by the end of tomorrow," Lamont said. "Here, I made promises for you, Craig, over to you," Lamont said, addressing Eversource.
He added that the state is watching the response by the power companies. Eversource drew widespread criticism for its handling of Isaias.
Public safety officials remind residents to always assume downed wires are live and to avoid them.
Branford First Selectman James Cosgrove said crews had been working through the night to open roads, but asked residents to avoid any unnecessary travel not to hinder the restoration process.
He said they are working as quickly as possible to restore power.
U.S. Sen. Richard Blumenthal said he will be watching how well Eversource responds in Branford and he will be going to regulators to demand refunds.
He said Eversource has around 380 crews in Connecticut and 80 of them are in Branford.
"I want to know how they're going to restore the power here in the next 24 hours without those crews being here, but I am going to watching, the people of Connecticut are going to be watching, and most importantly. the people of Branford and Connecticut deserve better. They deserve better than we saw in this last storm and they also deserve refunds," Blumenthal said.
He also called for reforms, like tying the company's profits to performance.
"What we may well need is a smarter, smaller more responsive utility than Eversource," Blumenthal said.
Hallstrom said that when crews are done in other communities, they will be sent to help in Branford.
He said he understands the frustration and they will work tirelessly to get power back to customers.
Hallstrom said power should be back on for the majority of customers in communities other than Branford by the end of the day.
"And then we'll work continuously to get Branford up and going," he said.
He said the company brought in crews yesterday from their other companies, as well as contractors
Eversource released a statement on Friday afternoon, saying that line and tree crews will substantially complete restoration for all towns in Connecticut by midnight tonight, with the exception of Branford.
PHOTOS: Severe Storms Move Through Connecticut
STORM DAMAGE REPORTS
After the worst of the storms moved through, damage reports began coming in.
In Hamden, police said multiple roads were impassable after the storm.
An NBC Connecticut crew in Hamden said heavy rain and whipping winds moved through quickly. The storm took down trees and some wires. Town officials reported some buildings with roof damage.
"Our Town was hit very hard today, and there was a lot of damage, but I'm very thankful that we do not believe there were any major injuries. Our residents can count on the fact that our Public Safety and first responder crews will be all-hands-on-deck and working through the night, and then as long as it takes to make our streets safe," Mayor Curt Leng said in a statement Thursday night.
Because of the storm damage, Quinnipiac University canceled all classes on Friday, but said on-campus COVID-19 testing for students, move-in and other student activities will proceed as scheduled.
Quinnipiac officials said the Mount Carmel Campus is on generator power and the North Haven and York Hill campuses are on commercial power.
No buildings were damaged on any of the campuses, but trees did fall.
Westport firefighters said they were called to help a driver who got stuck in a vehicle when a power line came down. Firefighters and Eversource crews were able to rescue the driver.
Westport firefighters said they received numerous calls, including reports of trees that came down on houses.
In East Haven, there were reports of tree branches down on multiple vehicles. Video from Bethany showed a box trailer tipped over from the force of the wind.
In North Haven, the fire department said emergency vehicles could not get to several neighborhoods and streets and asked people to avoid driving to impacted neighborhoods unless they had a legitimate reason to be there.
The department said the first selectman declares a state of emergency on Thursday night.
A tree came through the roof of a home.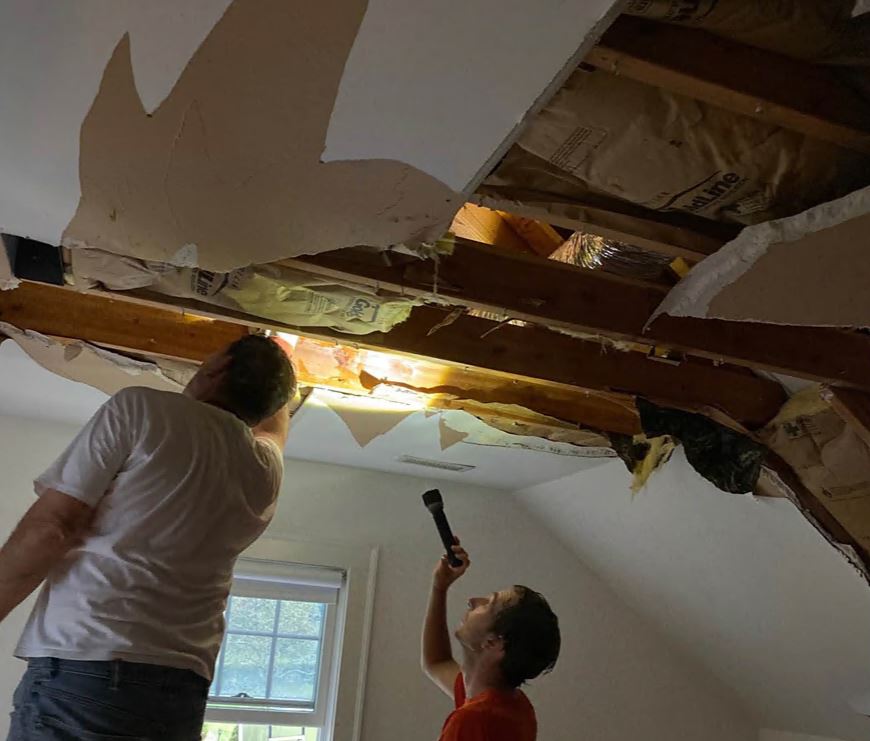 NBC Connecticut and Associated Press