A strong area of low pressure brought a cold front through the state Sunday.
Wind gusts will be the main threat in any thunderstorms that do develop.
A wind advisory has been posted by the National Weather Service for gusts that could approach (and possibly exceed) 50 MPH across the state.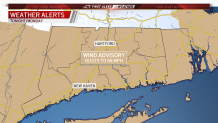 Rainfall totals should average around 1 inch in many locations. With some of the heavier downpours moving through, some towns could pick up over 1 inch of rain.
Cooler weather comes in on the backside of the storm on Monday, along with wind.
Weather Stories