Lots of sun and unseasonably warm temperatures are in the forecast for today.
Highs will be in the middle to upper 80s today and tomorrow and it will be much cooler at the shoreline.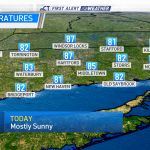 It will be fair on Friday, not as "hot," but still way above normal.
It will be partly sunny Saturday and Sunday with a slight thunderstorm chance on Sunday.
The warmth continues into next week with a few thundershowers around.