NBC Connecticut are forecasting a sun-filled morning today.
We will have warmer temperatures today, in the mid-80s this afternoon, and it will be slightly cooler at the beaches. Some increasing clouds will move into the state this afternoon.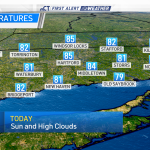 Humidity increases over the weekend.
There is a slight storm chance tomorrow night and early Sunday morning.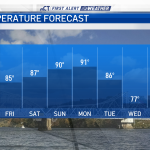 Father's Day looks hot and sunny.