It'll be another perfect day for a stroll with the low humidity and nice temperatures reaching near 80 degrees.
NBC Connecticut meteorologists are forecasting some blue skies and bright sun today.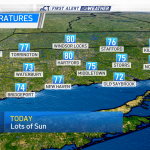 Clouds increase tonight with a few sprinkles by morning.
Morning showers are possible for Friday, than partial sun develops.
Warm and much more humid temperatures will move in over the weekend with partly sunny skies.