NBC Connecticut meteorologists are forecasting a mix of precipitation for Friday.
Most of the state will see rain, however, some hill towns and parts of western Connecticut could see a coating to two inches of snow, with those higher totals coming at higher elevations.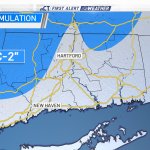 The mix will move into the state Friday with some snow midday, quickly changing to rain.
There will be fast moving rain showers.
The weekend looks fair with highs in the 30s to near 40.