With some uncertainty surrounding tomorrow's wintry weather, it's clear that rain and snow could impact Monday's commutes.
A winter weather advisory is in place for northern and northeastern Connecticut beginning at midday Monday.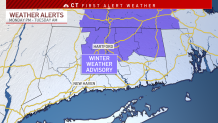 Precipitation starts in the morning. Some models are hinting at precip starting earlier Monday morning and impacting the morning commute versus others bringing it in a few hours earlier
Any early precip will be of the wintry variety. With Monday morning temps below freezing, any early precipitation would also stick to the ground. Light snow and even ice accumulations are possible around Monday's morning commute.
Other computer models have the beginning of precipitation coming later during the morning hours, between about 9 a.m. and noon. This translates to more rain and some mixing for the evening rush hour.
As the day continues, temps warm and many locations see wintry precip (snow or freezing rain) change over to liquid rain. Some areas in northern Connecticut will be slower to warm and see wintry weather longer than shoreline communities.
Whether it's rain or a mix, this impacts the evening ride home and school pick-ups Monday afternoon statewide.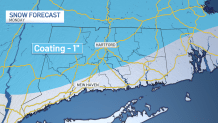 Minor snow accumulation can be expected away from the shoreline, with up to 1 inch of accumulation, especially in the hill towns.
Weather Stories
After a few leftover rain and snow showers on Tuesday morning, temperatures will climb into the 40s for the remainder of the week.