Parts of Connecticut saw thunderstorms move through on Tuesday afternoon.
A severe thunderstorm warning was issued for Middlesex and New London counties but has since expired.
There were no immediate reports of damage.
Highs today were expected to be in the low 90s.
Today marks day four of a heatwave, with 10 of the last 11 topping 90 degrees.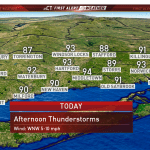 Wednesday is likely to have less humidity, but the temps stay very warm. A weak cold front approaching from the northwest tomorrow will trigger some showers and thunderstorms. These storms will be scattered in nature but a couple may be on the strong side with small hail, gusty winds, lightning, and heavy rain.
Weather Stories
Beyond the storm risk things quiet down later in the week. Humidity levels will fall some and at this point the weekend looks great.
Hot Weather Tips
With today's hot weather, here are some tips to help stay safe, cool and hydrated from the Centers for Disease Control and Prevention.
Wear appropriate clothing including lightweight, light-colored, loose-fitting attire.
Stay cool indoors including in a place with air-conditioning as much as possible.
Schedule outdoor activities carefully and try and plan them when the day is the coolest or in areas with shade.
Wear sunscreen and continue to reapply it while you are outside.
Do not leave children in cars as cars can quickly heat up to dangerous temperatures even with a window cracked open.
Avoid hot and heavy meals.
Drink plenty of fluids and don't wait until you are thirsty to drink.
Keep pets hydrated by providing fresh water and leaving the water in a shaded area.
Know the signs of heat-related illnesses and how to treat them.