After a beautiful weekend of sunshine, NBC Connecticut First Alert meteorologists are tracking a round of rain and snow for Monday.
A fast-moving area of low pressure is expected to track to the west of the state on Monday, which will bring in milder air. A burst of snow is likely Monday afternoon with a quick change to rain south of Hartford. There will be mainly plain rain along the shore.
The hill towns may hold onto snow a bit longer before the precipitation tapers off during the evening. While most of the state will see only a minor accumulation (away from the shoreline), the hills could pick up a couple of inches of snow.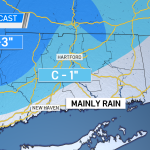 Milder weather is expected to follow for the rest of the week.