Scattered rain showers will continue Sunday night before tapering off as we head into early Monday morning.
Monday will feature mostly cloudy skies with an isolated chance for a light shower throughout the day. Most of the state will remain dry.
Rain will overspread the state Monday night and continue into Tuesday morning.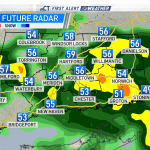 Total rainfall accumulations of 0.5-1" is expected.
Most of Tuesday will remain dry before another round of rain moves into the state by Wednesday.
Thursday looks like the pick of the week with partly cloudy skies and temperatures near 70 degrees.
Another round of rain showers will move into the state as we head into Friday.