A strong cold front is crossing the state, bringing rain showers and downpours to parts of Connecticut.
The bulk of the rain is expected to fall between 6 p.m. and midnight. A heavier downpour and a rumble of thunder can't be ruled out.
Once the front passes, much colder air pours into the state overnight.
For sunrise services (6:08 a.m.) on Easter Sunday, it will be blustery with temperatures in the 30s. Wind chills will hold in the 30s and 40s on Sunday.
The average high temperature should be close to 60. High temperatures will top out closer to 50 during the day.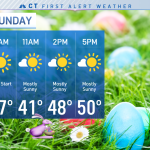 A freeze watch is in effect for the shoreline Sunday night into Monday morning. Milder air returns for the start of the week on Monday.
With falling temps to near or below freezing, snow is possible for Litchfield County on Tuesday.