We are tracking scattered rain showers moving into Connecticut. The showers were quite isolated during the morning hours and become more widespread tonight.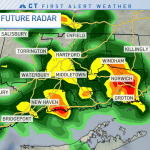 Going into the overnight/early Monday morning, a few rumbles of thunder are possible. Areas of heavy rain are expected tonight, as well.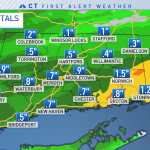 The rain showers will move out by Monday morning with warming temperatures as we head into the workweek with inland highs expected in the middle 80s.