Our NBC Connecticut meteorologists are tracking another storm that will bring several inches of snow to parts of the state Wednesday before it changes over to rain.
The snow looks to start between noon and 2 p.m. It will continue through the evening commute.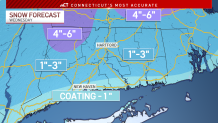 Parts of the state could see up to six inches of snow, though most of the state will see between one and three inches.
Winter weather advisories are posted for Litchfield, Hartford, Fairfield, New Haven, Tolland and Windham counties Wednesday. There are also wind and coastal flooding advisories in effect for parts of the state.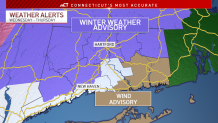 The timing of the snow will likely cause problems for schools, businesses and athletic events. For the full list of school closings, click here.
By tomorrow evening, the snow will change over to rain that may be heavy at times. Temperatures will go up more than 10 degrees by nighttime with expected temps between 45 and 50 degrees.
The rain will wash away a lot of the new snow.
Strong winds will be of concern late Wednesday evening.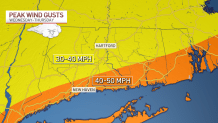 Minor coastal flooding is possible early Thursday morning with the high tide cycles between 1 and 3 a.m. along the shoreline.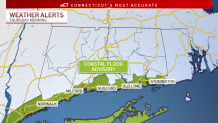 A shower is possible early on Thursday. Highs will be in the mid 40s.
Friday looks sunny with highs in the low 30s.
You can get the latest forecast anytime here.