While it may not be the brightest of weekends, temperatures will remain on the mild side for this time of the year.
Temperatures are expected stay well into the 40s through Sunday. Skies will remain partly to mostly cloudy.
There is a risk of a shower by late in the day on Sunday.
The average high temperature for this time of the year is in the 30s. Temperatures will average 10-15 degrees above that again on Sunday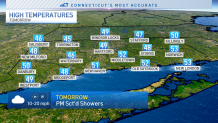 The longer-range forecast is for colder air to move into the state.
By the end of next week, high temperatures will remain in the low 30s and even some upper 20s by Friday.
Weather Stories