Our streak of 80°+ has extended to four after temps peaked at 81° at Bradley Airport on Sunday afternoon. The warmth continues on Monday before we cool back to near normal highs for mid-May.
Tonight, we're watching some storms moving through that may produce gusty winds and heavy rain. Some lightning is also possible with these storms, as well.
Storms clear out overnight and we start Monday on a dry note. Some cloud cover should remain in place with a few breaks on Monday.
A cold front will begin to approach the state by late Monday. The front will bring the chance for showers and thunderstorms. The severe storm prediction center (SPC) has placed the state between a level one to level two (out of 5) for severe weather.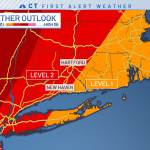 Monday's storms come in the afternoon. Western and areas of central Connecticut are under a level 2 risk while those farther east are in a level 1. As far as severe weather threats, wind tops the list for Monday's events. Hail and the possibility of a tornado are lower threats. Heavy rain and lightning may come with the storms, as well.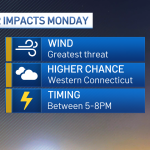 The cold front on Monday will bring an end to the humidity. Dew point temperatures will drop from the 60s to the much drier 30s and 40s by midweek.