Our NBC Connecticut meteorologists have issued a First Alert for a storm that will bring snow and rain to the state Saturday.
Parts of western Connecticut could see as much as 6 inches of snow Saturday.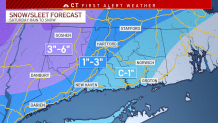 The rain will develop by the morning and it will become heavy at times.
The rain will change to snow from west to east.
In the Northwest Hills, the snow may mix in as early as 8 a.m. Farther east toward the Interstate 91 corridor, the mix will happen by late morning.
We will also have high winds of 20 to 40 miles per hour.
Timing Out the Storm
Scattered rain showers will develop statewide between 4 to 7 a.m. with a transition from rain to snow from northwest to southeast during the morning and into the afternoon.
Take a look at the timing on one of our computer models which shows the transition.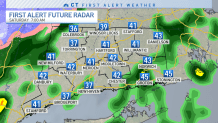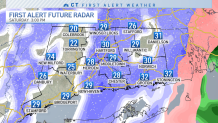 As the storm pulls away strong winds will develop out of the northwest. Gusts up to 50 mph are possible in spots which may lead to scattered power outages.
Eversource said their tree and line crews ready to respond to any outages.